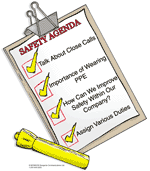 At Will Duett safety is more than a slogan, it is a committment. The foundation of Will Duett's safety program is a moral commitment to protect the lives and the safety of our employees and customers.
As demonstrated by our TRIR (The Recordable Incident Rate) we have a EMR (Experience Modification Rate of .83. Each year it gets lower. These rates are the best in the industry. The TRIR measures safety on the jobsite, and ours is better than our competitors. Our goal is to maintain that level of excellence in safety.
Will Duett's exceptional safety performance is a direct and continous result of effective planning for safety at the project level, conscientious leadership and a moral commitment of the company to provide a safe working environment.
ABOUT OUR SAFETY
We have committed the resources necessary to train our employees, making them aware of potential hazards and equipping them with the safety equipment necessary to complete each job safely. We are committed to educationg our employees through an ongoing safety program, through the OSHA General Industry Training Program and annual safety refresher courses to keep employees updated to the latest developments in our industry, as well as new OSHA requirements. Our supervisors are trainined in first aid, CPR, and the use of AED's. They are also trained in the Dupont STOP for Supervision program as well as our own Proactive Safety Program for Supervisors.
.
Safety is backed by management (especially the owner who is the Director of Safety); and management remains committed to raising the bar through the implementation of cutting-edge technology in its prevention and analysis of safety.
Every employee at Will Duett undergoes drug testing throughout their working careers, these tests include:
Pre-Employment Testing

Random Testing

Post Accident Testing

Reasonable Cause Testing
Our drug and alcohol testing, coupled with our safety training programs, assure you that our projects are completed with the highest regard for safety.
Will Duett supervisors will also coordinate with you on any special safety or regulatory requirements. We want to know our customer's safety requirments and meet or exceed them.
TWICs Cards
All of our people have the TWIC card. We are in compliance with the TWIC program for all Shipyard and Docks.
TRAINING
Will Duett's committment to safety is evidenced by our excellent safety performance record. It is our philosophy that a well trained workforce is a safe workforce. Will Duett employees receive training in the following areas listed below:
| | |
| --- | --- |
| OSHA General Industry Training | |
| | Respiratory Fit testing/Pulmonary Function |
| | Offshore Safety and Lifestyle |
| | |
| | |
| | |
| Will Duett Tank Cleaning Procedures | Dupont STOP for Supervision |
| Water Survival and Helicopter Egress | |
| First Aid, CPR and AED for supervisors | |
| | Will Duett Supervisor Training Course |