For Marine and Offshore Service
We clean and coat all types of tanks on oil rigs, ships, barges, mud boats, dockside and offshore. We clean by hand or with high pressure water.
We transport drilling fluids to approved disposal sites, we complete all paper work for transporting and disposal of materials.
We clean storage containers, cargo bins, and stock cars
We Mole lines on boats and offshore rigs and we pig pipelines
We can provide riding crews for ships.
We provide Labor Services
We can move Rigs with a certified and trained rig mover
We can provide sub contracted services in
Welders, Hammer-Riggers, roustabouts, drillers, roughnecks, crane operators and riggers.
We can Hydro Blasting and Painting to our list of services for interior structures like living quarters and some exterior surfaces.
Corrosion Control Services
We can mothball rigs and other vessels, we can also shrink wrap equipment and place VCI's in them to preserve the equipment. We are the distributors for a product that can almost eliminate rust/corrosion in tanks, equipment, and any room or area on a rig that can be shut off from the elements. To get more information about this product and service, call Ricky Michael, he can tell you how we can save you money on mothballing your rig.
We also have partnered with a few companies to provide a complete demolition service or scrapping of rigs and other structures that you need removed from service.
Offshore Project Management and Engineering Consultants
For General Labor Service
We do Environmental Clean-up and Disposal of lots, buildings, yards, etc.
We tear down/demolition of old small buildings, oil storage units, etc.
We do Sewage line inspection for city Public Works Departments.
We can do landscaping and paint small buildings
Hurricane/Severe weather cleanups of debris
We clean up environmental spills and dispose
We can provide labor for what ever your needs could be on land or offshore.
We can do the labor for any event, just give us a call, tell us what you need and we will set you up with the right people and equipment to do the job right the first time.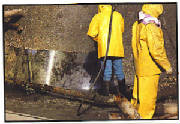 When choosing a service company, whether it be for tank cleaning, environmental clean-up, providing temporary, general labor services, several factors should be considered:
Experience

Safe Operation

Rapid Completion

Environmental Plan

Cost-effectiveness

Competent, highly trained people

Ability to get people to a job site fast when ever you need them.
At Will Duett, we manage every aspect of your project. We will oversee the cleaning, coating, transportation and disposal of tank waste. Our experienced crews, supervisors, and equipment are on hand to complete the project safely, efficiently, and quickly to reduce labor costs.
Will Duett, is a full-service, licensed, and permitted tank cleaning company. We provide 24-hour service, we are structured to meet the most demanding needs. Will Duett stands ready to help you properly address all of your tank cleaning or other specialty services needs and concerns.
Will Duett also provides exceptional insurance coverage to give you that added piece of mind. Our clients range from small family owned businesses to large oil companies. We have always taken pride in understanding our responsibility to the environment and to the clients we serve.
Contact Will Duett no matter what your requirements might be. Our operations are in strict compliance with all applicable state and federal regulations. At Will Duett, we take all the precautions to ensure you the greatest confidence and safety.